Real Estate News Category
Posted By Lane Bailey on June 9th, 2011
But the planning meeting is June 15th, 2011…  That is much sooner.
Last year, we had a great time watching the demonstrations from some of Gwinnett's K-9 units, visiting booths with information about public safety organizations and getting the kids on fire trucks (no matter how often they get to get in a fire truck, they are always up for doing it again). Of course, we also loved seeing all of our friends from the community.
The planning session is at the Lilburn City Park Pavillion from 7-8pm.
If you want to volunteer, start here.  Then make plans to attend the planning meeting.
Posted By Lane Bailey on May 27th, 2011
Market stats for Lilburn, GA, April, 2011, indicates that there were 440 properties on the market (as of April 30th). Overall, there was about an 10.6 month supply of properties and 44 properties that closed (sold) in April.  I had been looking for an increase in sales for March and it came through.  And while April was an increase over last year's sales (36), it was a decrease from March, 2011 (55 sales).  Usually, we would be on an upswing until July or August.  I'm still hopeful… the Absorption Rate notched down a little.
In the sub-$200k arena, there are 310 listings, with about an 9.6 month supply with 32 sales.  This represents most of the sales in the market area.  Sales dropped sharply from last month (43), and were only slightly above last year (31).  While the Absorption Rate dropped slightly from 9.7 to 9.6 months of inventory, I really wanted to see more movement in this segment.
Between $200k and $400k, there are 115 listings for sale, and about 14.4 months of supply.  This segment has been quite weak for months.  Having 0 sales in December, and only 6 in November didn't help. Nine sales in January was HUGE. But, February was back down below last year.  March was strong last year, but a little stronger this year (9 v 8 in 2010).  April was HUGE… 11 sales compared to just 4 last year.  If May stays strong, this could signal a return to a more balanced segment… and Lilburn has been missing that.
From $400k to $600k, there are 11 homes on the market. The absorption rate is 11 months. There were no sales in this segment from December through February, but there were 2 in March, which really turned the segment around, followed by 1 sale for April.  It doesn't seem like much, but this is a segment hasn't posted that many months with back to back sales… Watch May, because there haven't been sales posted three months in a row since 2009.
From $600k to $800k, $800k to $1M and Above $1M, there are 4 listings (combined), but too few sales to have any sort of reliable number of months of inventory.  March posted the first sale since August, 2010.  It was in the $600-$800k range. One of the listings is above $1M (none between $800k and $1M), and there is no market activity in the last 12 months for that range…
Lilburn is in Gwinnett County, GA, just outside of Atlanta. As of the 2000 Census, there were 11,307 people in Lilburn, but that is only including people in the city limits, and there has been a lot of growth since 2000 in Gwinnett County. It was incorporated in 1910. Lilburn is home to Parkview High School, and also has students that the Brookwood, Berkmar and Meadowcreek clusters. It is also home to Killian Hill Christian School, Providence Chrisian Academy, St. John Neumann Catholic School and Parkview Christian School. Possibly the most famous resident of Lilburn is General Beauregard Lee, a groundhog with a better winter prediction record that Puxatawnee Phil up in PA. Dominique Wilkins, formerly of the Atlanta Hawks also lives in Lilburn.
I have a page dedicated to Lilburn Market Data.
Related articles
from LaneBailey.com
Posted By Lane Bailey on May 12th, 2011
Almost 100 cars. Perfect weather. Nice people. Is there a better way to spend a Saturday afternoon?
From LaneBailey.com
Posted By Lane Bailey on February 4th, 2011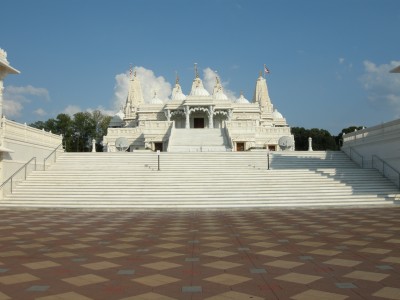 Who would have thought that the largest Hindu Temple outside of India would be in Lilburn, GA? I live here and love this area, but I was surprised to find out that little tidbit.
When it was under construction, many of us were wondering what was going into the spot at the corner of Lawrenceville Hwy and Rockbridge Rd. There was a giant gantry crane and more concrete that one could almost imagine.
Before the temple was complete, hundreds of volunteers spent thousands of hours making everything perfect. As we toured it, we could see thousands of figures carved into the building, inside and out. EACH of these was polished to a gleam, by hand.
The temple is available for tours. It is well worth it to see.
Related articles
From Photo Fridays on LaneBailey.com
Posted By Lane Bailey on January 28th, 2011
Image via Wikipedia
You're on Candid Camera…
Remember that show?
The City of Lilburn recently announced that they were going to be installing a video surveillance system along the City's Greenway Trail.  There are already 14 cameras that Lilburn, GA Police use to keep an eye on City Park (the tennis courts, playground and walking loop).  Iron Sky will be installing 19 new cameras along the Greenway Trails running out of City Park.
And if you haven't been on the Greenway Trails, you really should.  They provide some really great recreational opportunities.
(This is a different type of Photo Friday…)
Related articles