Archive for January, 2011
Posted By Lane Bailey on January 28th, 2011
Image via Wikipedia
You're on Candid Camera…
Remember that show?
The City of Lilburn recently announced that they were going to be installing a video surveillance system along the City's Greenway Trail.  There are already 14 cameras that Lilburn, GA Police use to keep an eye on City Park (the tennis courts, playground and walking loop).  Iron Sky will be installing 19 new cameras along the Greenway Trails running out of City Park.
And if you haven't been on the Greenway Trails, you really should.  They provide some really great recreational opportunities.
(This is a different type of Photo Friday…)
Related articles
Posted By Lane Bailey on January 14th, 2011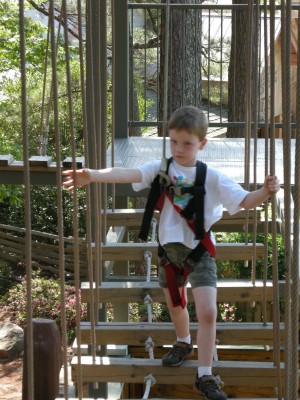 Since Flashback Friday and Wayback Wednesday have been highlighting posts from 1 and 2 years ago, I have covered posts for the last several years.  Wayback Wednesday will continue, and will feature posts from either one or two years ago that week.
Ropes courses are nothing new.  And this one is pretty cool.  There are three levels.  The lowest level is around 12′-15′ off the ground.  Each of the next two levels is about 12′ higher.  It might not seem that way when you are standing on the ground, but it is pretty high by the time you get up to the third level.
And those seemingly simple obstacles are much more difficult when you are standing precariously on a rope 30′ in the air.
Image by lane.bailey via Flickr
While we were getting our Annual Passes, we could see the Sky Hike out of the window of the Pass photo booth.  I have to admit that I was laughing pretty hard at some of the people that were up on the course.  A few minutes later, I am sure that there were folks in the same place laughing at me.
Sky Hike is included in the Mountain Membership, or the One Day Adventure Pass.  There is also an option for getting JUST the Sky Hike.  I recommend getting a Mountain Membership if you live in the area.  I also recommend getting an Annual Parking Pass ($20) for at least one of your family vehicles, as there are numerous free events for the family at the park… and the $35/year is WAY better than paying $10 to park there for the day… it's just $20 for the annual parking pass if you are a Mountain Member, too.
And while you are there, you might as well ride a Duck…
If you follow me on Foursquare, you'll know when I am at the park for a walk around the mountain (nice 5 mile hike).
Here is the website for Stone Mountain Park.
Stone Mountain Sky Hike from LaneBailey.com
Related articles